10th December, Abu Dhabi: Two-time PBA-World Bowling Tour winner, Thomas Larsen led his team-mates, Carsten Hansen and Frederik Ohrgaard to give Denmark the lead at the end of the first block of the World Bowling Championships 2014 Trios event.
The Danes reeled off lines of 732, 686 and 740 to top the opening squad with 2158. Ohrgaard posted 718, Hansen 715 and Larsen 725 to finish 183 pins ahead of the first Finish trio of Perttu Jussila, Juhani Tonteri and Doubles bronze medalist, Joonas Jehkinen.
Colombia's first trio took third position in the squad with 1955. Both Finland and Colombia eventually dropped off to 12th and 13th position after the third squad completed their first block.
Singles gold medalist, Dan MacLelland led his Canadian team-mates, David Simard and Francois Lavoie to top the second squad with 2079 but was 79 pins short of the Danish trio.
Joachim Karlsson, Robert Andersson and Martin Paulsson of Sweden finished second to the Canadians just 1 pin behind and kept their third position in the overall standings.
Newly-crowned PBA-WBT Kingdom of Saudi Open champion, Marshall Kent partnered his American team-mates, Mike Fagan and Sean Rash to take up third in the squad with 2038 and is the cut in fourth overall.
The Korean doubles silver medalists, Shin Seung Hyeon and Kang Hee Won together with doubles gold medalist, Choi Bok Eum took the third and final squad of the day with 2032 but only finished sixth overall, 14 pins off the cut.
The second Australian trio of Jason Belmonte, David Porto and Singles bronze medalist, Sam Cooley was third in the squad and eighth overall, a further 27 pins off the cut.
The second American trio of Bill O'Neill, singles bronze medalist, Tommy Jones and Chris Barnes managed fourth in the squad and ninth overall, 30 pins from their compatriots.
The first trio of Doubles gold medalist, Park Jong Woo, Hong Hae Sol and Kim Kyung Min, who is fifth and just 6 pins off the cut, cannot be discounted as the contender for the top 4 positions.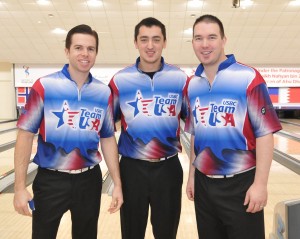 The second block of three games will end the preliminaries and the top 4 will make the cut for the semi-finals and finals shootout. With only 70 pins separating seven teams, it will certainly be a thrilling end to another exciting day of bowling at its best.