14th October, Dubai: Second-seed, Hareb Al Mansoori of UAE defeated top seed, Khalid Al Dubyyan of Kuwait twice in the final stepladder match at the 5th Dubai International Open Bowling Tournament 2014 to win his first major title.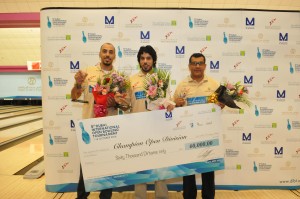 Hareb had a nervous start when he failed to convert a single-pin spare but recovered with a double in his next two frames. When his opponent had a split in the fifth frame, the Emirati doubled again to open up a small gap.
The match leveled up when both had a split each. Hareb ended the match with 190 and the Kuwaiti could have wrapped up the tie when he needed to double in the tenth frame but ended with a spare to lose the first match with 183.
In the deciding match, Hareb started off with three strikes-in-a-row and when Khalid opened in the fourth, he was trailing the Emirati by 24 pins. Although Khalid recovered with a double in his next two frames, he stumbled with another split in the eighth frame.
Cheered on by a large crowd of local supporters, Hareb went on to take the match and win the title, 213-170. The champion had earlier sailed past team-mate and third seed, Shaker Al Hassan, 248-211 in an all-Emirati semi-final match.
Shaker took the first all-Emirati stepladder match defeating fourth-seed, Naif Oqab and fifth-seed, Mahmood Al Attar, 234-227-205 before going down to Hareb.
The champion pocketed the top prize of 60,000 AED (approx. US$16,325) while the Khalid settled for 30,000 AED and Shaker picked up 15,000 AED as second runner-up. Naif and Mahmood earned 10,000 and 8,000 AED for fourth and fifth positions respectively.
Mohamed Khalifa Al Qubaisi, President of Emirates Bowling Federation together with representative from the Dubai Sports Council, gave away the prizes to the Youth, Women and Open division winners.
In the earlier Round 3 finals, Khalid topped the round with 1730 ahead of Hareb in second with 1705. Shaker, who was sixth before the eighth and final game, ended with 256 to take up third with 1705.
Naif, who was leading before the last game, slipped to fourth with 1697 while Mahmood hung on to fifth with 1670 to make the cut for the stepladder finals.
Hussain Al Suwaidi missed the cut to tie with Mohamed Janahi in sixth position with 1657. Anthony Balabbo of Philippines took eighth position with 1650. Top qualifier, Kim Bolleby of Sweden and Samantha Hannan rounded out the top 10.
The top 16 Asians qualified for the ABF Tour UAE leg which will be held at the same bowling centre tomorrow. A total of 88 bowlers from 19 countries participated in the two weeks tournament held at Dubai International Bowling Centre.
(By Terence Yaw)