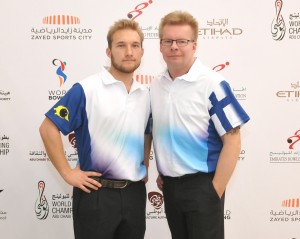 8th December, Abu Dhabi: Joonas Jehkinen and Kimmo Lehtonen gave Finland a flying start to lead the opening squad of the Doubles event at the World Bowling Championships 2014 and remained top of the overall standings after three squads.The Finish pair reeled in consistent score lines of 493, 480, 441, 462, 401 and 452 to lead the squad with 2729 and setting a massive benchmark.
Two-time world championships Singles champion, Bill O'Neill and Mike Fagan took second spot, 62 pins away with 2667.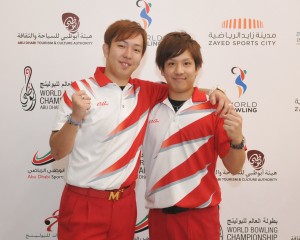 Malaysia's first pair of 2013 AMF World Cup champion, Muhamed Syafiq Ridhwan and Alex Liew, who was trailing the Finns until the fifth game, slipped behind the American pair by 5 pins for third position.
In the second squad, Jonathan Simoneau and David Simard of Canada rolled a big game in the last to snatch the lead with 2609. Pace-setter, John Wells and Richard Teece of England ended in second with 2557.
The Canadian's effort only managed to land them in fourth overall after two squads with The Finish, American and the Malaysian pairs hold first, second and third positions respectively.
In the third and final squad of the day, Incheon Asian Games Doubles silver medalist, Daisuke Yoshida and Trios gold medalist, Shusaku Asato led from start to finish to claim top spot with 2725.
Anchorman, Asato needed to strike out in his tenth frame of the last game to snatch the overall lead but only spared the frame. The second Japanese pair could also had tied with the Finns but knocked down only 7 pins in the bonus frame to settle for second overall, just 4 pins adrift.
Incheon Asian Games Team gold medalist, Kang Hee Won and Shin Seung Hyeon of Korea, who finished second to the Japanese with 2717, took third position overall while rookie Daniel Fransson and Martin Larsen clinched fourth position with 2688.
The fourth and final squad of the Doubles preliminaries will be held tomorrow, December 9 to decide the top 4 pairs who would advance to the shootout semi-finals and finals.