14th October, Dubai: Kuwaiti national bowler, Khalid Al Dubyyan won Round 2 Finals of the 5th Dubai International Open Bowling Tournament 2014 to lead Ibrahim Al Zaabi of UAE, Samantha Hannan of England and nine other finishers into the next round.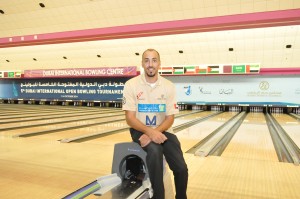 Newly-crowned Youth Masters champion, Christopher Sloan of Ireland set a cracking pace with 236 in the opening game to lead newcomer, Ibrahim Al Jadi of Kuwait by 3 pins with Yousif Falah of Bahrain in third, a further 11 pins away.
But a lowly 162 in the second game from the two-handed Sloan saw the Irish lad slipping down the field as Khalid shot into the lead followed by Hareb Al Mansoori of UAE in second and Yousif holding third.
The Kuwaiti remained in the lead after the third and fourth games when Khalid downed 214 and 258. Ibrahim Al Zaabi of UAE rolled a stunning 277 to leapfrog into second spot and by the fifth game, the Emirati took over the running.
Two additional splendid games from Ibrahim allowed him to hold top spot as Khalid kept pace with the Emirati. Khalid ended the round stronger with 221 to snatch the win with 1716, just one pin ahead of Ibrahim in second.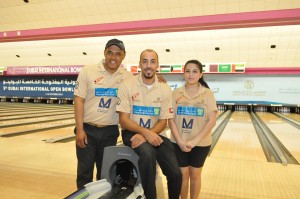 Newly-crowned Women Masters champion, Smanatha Hannan of England stormed home to clinch third spot with 1688 while early pace-setter, Sloan finished fourth with 1679. A second Kuwaiti, Salem Al Hajras rounded out the top 5 with 1643.
Desperado top qualifier, Mohamed Janahi of Bahrain made the cut for the next round with a big game of 255 for a total of 1537, piping compatriot, Yousif by 5 pins.
The top 12 finishers will be joined by the top 4 seeded qualifiers for another 8 games in Round 3 finals later today at 4.00 pm local Dubai time. The top 5 at the end of the round will advance to the stepladder finals.